Robust cooking with style
Skeppshult is a proud part of a Swedish handcraft tradition. We are very happy to welcome these manufacturers of the finest cookware there is, as our new clients. A new identity and packaging design solutions are on the way…
Finnish bakery
Backers have been around since the 17th century. Something that the earlier identity certainly made a point of. But now we have given these fine bakers a new identity, yet with a touch of their century-old traditions.
Who said naming is everything?
All this talk about brand name being the most important corner stone… our redesign of the Google logotype clearly shows the impact of strong design when it comes to instant recognition. Now we're just waiting for it to turn up at their web page. You never know…
Les vins extraordinaire
Lovely French wine such as a very nice Châteauneuf-du-Pape, and many others… We are proud to have redesigned these beauties from Xavier.
Monaco Grand Prix
Another interesting book project is about this Formula 1 super event. Pictures from the 60s of this classic competition, were mysteriously found in a drawer somewhere in Stockholm. In close collaboration with Richard Lindvall, who's father Sture Lindvall is the man behind the pictures, we designed the book. It portrays the last independent race of 1967, before sponsorship was initiated to rule the game. As we like some of the pictures so much we now have them on our walls.
5 years in performance
This year we celebrate our first five years in business. And together with the London-based art director Sonya Dyakova, the illustrator Jonas Bergstrand and writer Tor Bergman, we celebrate with a book that describes what this trade is really all about: It's circus!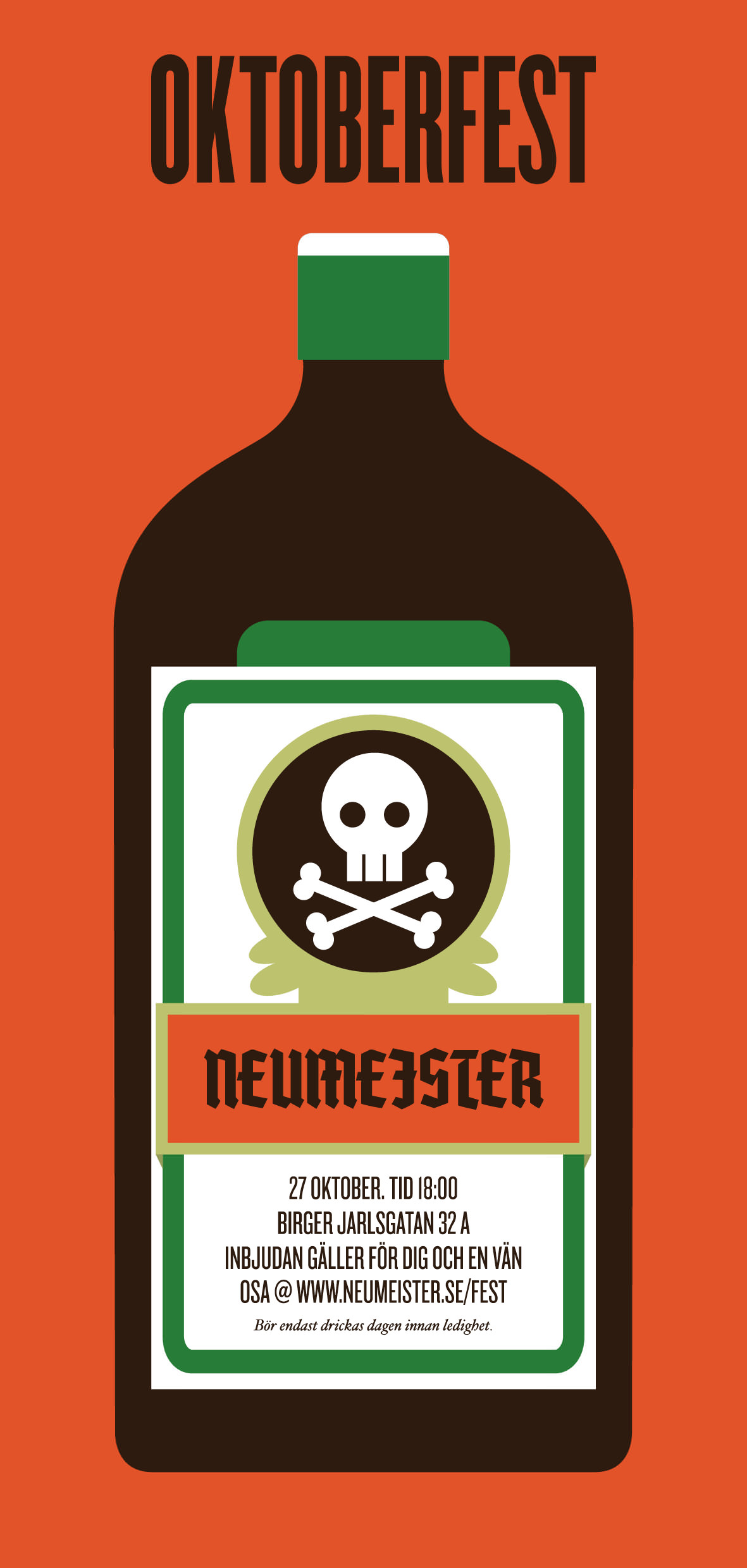 Danke schön
We really had a marvelous time at the party last week. All thanks to our guests of course; and the DJs, and the caters …  See you all next October!
Oktoberfest
It's that time of the year again. Time to shake your booty, mingle with friends and distant acquaintances or just stand quietly in the corner, elegantly sipping a little schnapps. If you haven't received an invitation to our party at October 27, but would like to come, don't hesitate to contact: emma@neumeister.se
(Sponsored by the pride of the Lower Saxony: Jägermeister!)
Welcome to our seminars!
Before our grand party we have the pleasure of inviting you to four seminars on branding, marketing, retail and design. Our speakers are the very brilliant Pernilla Wingårdh, Rickard Danielsson, Anders Karlsson, Mats Eklund and our very own Peter and Henrik. But remember: seats are limited.
Berns Salonger becomes: Berns!
Voila! Here it is; our new identity for this classic venue. Known to all in Stockholm since 1863. And if everybody says Berns… Why not simply call it Berns? Read all about it here: http://www.dagensmedia.se/nyheter/byraer/article3287170.ece